Company at a Glance
Invescorp was established in 2011 and was dedicated to buy and sell Rough diamonds and Gold from Africa.
Due to its success and vision of controlling its own market, in 2019 the company management team has decided to move into mining and constituted Invescorp S.A in Guinea. Invescorp S.A Guinea by owning its own mines is controlling its production, export and sales. Invescorp S.A Guinea is committed to mining safely, optimally and responsibly, as well as making a meaningful contribution to the development of the communities around its mines and Guinea. Invescorp S.A Guinea is contributing significantly to the internal product of Guinea and is one of the largest private companies in Guinea. Invescorp S.A Guinea is committed making a meaningful contribution to the development of communities around its mines and the nation of Guinea and Africa. Invescorp S.A Guinea has obtained in January 2022, the most coveted and important license in Guinea: the "Comptoir and Diamond export License"!
Mission & Values
Invescorp is introducing sustainable and holistic mining to Africa,low environmental impact mining using state-of-the-arts technologies that prevent toxic waste and chemical contamination of the environment, combined with social impact development and renaturation programs, are the core of our business strategy.
The cooperation and voluntary corporate initiatives, which are aimed at improving the social position of our employees and help our local communities.
Trading fair trade - empowerment for the local people - Following the principles of corporate social, economic and ecologic responsibility for the local people and regions. We do work with our local communities exclusively.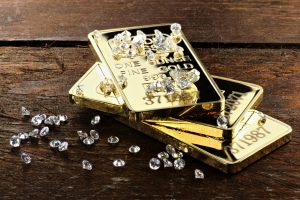 We strictly comply with the applicable Guinean laws, international standards and industry regulations on responsible business practices, as well as international guidelines and best practices in diamond and gold supply chain.
Our Advantages
EXPERIENCE

We have more than 30 years adcquired experience in West Africa and all over Africa.

MINING CONCESSIONS

We own our concessions.

All our mining concessions are covered legally and with titles delivered by the Ministry of Mines of Guinea.

WE ARE IN CONTROL

All the production, transport to Conakry, exports, transports and importation to Antwerp in Belgium, cutting, certification of the diamonds and sale.
Key Management
Manuel Parreira
Shareholder
Group Chairman
CEO
Milos Mitrovic
Shareholder
Co CEO
Ibrahim Toure
Exclusive Representative
In charge of the mining sites and operations